The idea for The Holy Donut grew very organically out of a craving I was experiencing for some deeply satisfying yet healthy comfort food – specifically, a donut. I knew a chain version would just not cut it. I wanted a donut made with fresh ingredients that I could feel good about eating. Since I couldn't find what I was looking for, I decided to create it myself.
I knew I wanted to make donuts from scratch, using as many local ingredients as possible. I started experimenting with donut recipes in my kitchen in 2011 and after some trial and error, came up with a winner. The (not-so) secret ingredient: fresh Maine potatoes. Adding mashed potatoes gives the donuts a delicious moist texture that makes them just melt in your mouth. Once I realized I had a product I felt confident that other people would enjoy as well, I contacted Coffee by Design and they immediately agreed to buy a dozen each day to resell. I continued to pound the pavement with my samples and within a year I had a wholesale donut business on my hands!
I was soon producing 40 dozen donuts a week. I was so busy making donuts that my father jumped in to help. For five months he would arrive every day at 6 a.m. to pick up that day's deliveries. I made every donut by hand, cooking them four at a time in a small fryolator. My wholesale business grew to 100 dozen donuts a week working out of a small shared commercial kitchen space. But I wanted to move beyond wholesale and open a real donut shop– that was my dream.
We were lucky to find a great space on Park Avenue, and The Holy Donut officially opened for business in March 2012. In the beginning it was just me, my father and one employee. Our customers loved us and our donuts and we grew so quickly that we had to learn how to upscale in a massive way while keeping the same homemade product. We opened a second location on Exchange Street in the Old Port in October 2013.  In March 2017, we opened our biggest location on Route 1 in Scarborough. In just over three years we have grown to almost 80 employees, and now make two million donuts a year. Wow!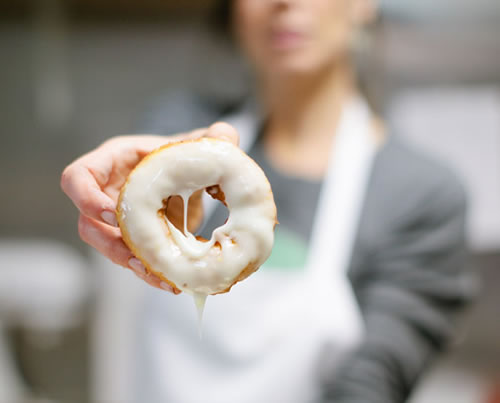 We still hand cut every donut and continue to use wholesome ingredients. In addition to plenty of fresh Maine potatoes, we include the highest quality dark cocoa powder and 60% dark chocolate chips in all chocolate donuts and glazes, and color our glazes with only fruit juices or vegetable dyes, no fake colors.
While we typically sell out, if for some reason we do have leftovers at the end of the day they are donated to organizations such as the Preble Street Resource Center because we believe in giving back to the community that has shown us so much love and support.
We want everyone to know that donuts can be wholesome and made with healthy ingredients, and still be intensely pleasurable and delicious! Donuts and life are meant to be enjoyed!